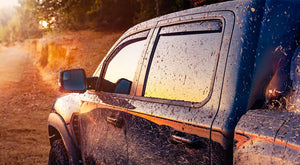 Wind Deflector Rain Guards
Enjoy the freedom of open windows, no matter the weather conditions

Free Shipping
To The Lower 48 States

Trusted Site
Safe & Secure Checkout

Hassle-Free Return
Exchange or Money Back
USA Based
Located in New York
Out-Channel Wind Deflector Rain Guards For Cars & Trucks
Upgrade Your Driving Experience with JSP's Premium Wind Deflectors
Designed to bring a breath of fresh air to your vehicle, JSP's premium rain guards enhance your driving experience. Say goodbye to unpleasant odors and rainwater intrusion while enjoying the freedom of open windows, no matter the weather conditions.
Protective and Stylish Rain Guards for All-Weather Comfort
Our window rain guards act as a robust barrier against rainwater, safeguarding your car's interior from annoying drips and potential damage. Additionally, these top-quality wind deflector rain guards shield against harmful UV rays, ensuring your cabin remains cool and comfortable even on sunny days.
Eliminate Odors with Advanced Wind Deflector Rain Guards
Bid farewell to unwanted odors caused by pets, smoking, food crumbs, or sports gear. JSP's rain guards actively work to remove lingering smells, leaving your vehicle smelling fresh and inviting.
Enjoy Quiet and Serene Rides with Car Window Rain Guards
By reducing wind noise and turbulence, our car window rain guards create a peaceful and serene driving environment. Enjoy smoother rides and improved concentration on the road, thanks to the expertly engineered design of our wind deflector rain guards.
Wind Deflectors with Custom Fit and Sleek Design
Crafted with precision and utilizing a 3D curved design, our wind deflectors seamlessly match the contours of your car's windows. The result is a sleek OEM appearance that adds a touch of sophistication to your vehicle while providing enhanced functionality.
Experience Fresh Air in All Conditions with Out-Channel Rain Guards
Embrace the allure of open windows without worrying about adverse weather conditions. With JSP's out-channel rain guards, you can enjoy fresh air circulation during light rain or shine, making every drive a delightful experience for all passengers.
JSP Rain Guard Window Deflectors Frequently Asked Questions